Five reasons to choose an independent agent
Your independent agent is your trusted advisor to find the right insurance to fit your needs.
By working with an independent insurance agent, you can get competitive insurance coverage, with the luxury of a consultant and adviser to help you understand the risks that you face and the insurance you need to buy to protect yourself. This is much easier than the do-it-yourself method. Here are the top five reasons independent agents provide valuable service.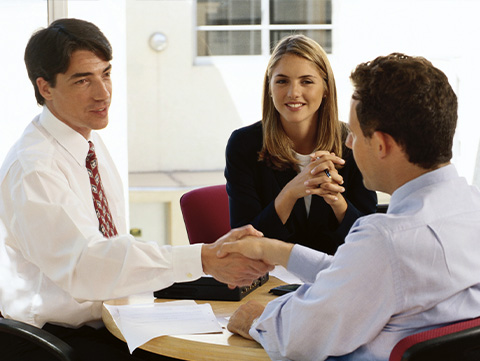 #1 Helping customers find the right insurance coverages
Choosing the right kind of insurance agent can make a big difference in securing the best combination of price and value to fit your needs. Do you fully understand why you have insurance, and how it's supposed to work? When (or if?) you read your policy, do you understand what it means? Are you familiar with insurance law? If you're like most people, you answered no to these questions. This is one reason why you need an independent insurance agent.
#2 Matching customers with the right insurance carrier
Essentially, there are two kinds of insurance agents. One is the "captive agent," a business model in which the agent works directly for and sells exclusively for a single insurance company. A captive agent represents a single company, and can only provide you with information or access to that company's products. The other type of agent is an independent insurance agent. Independent agents have no exclusive relationship with any one company. They represent multiple insurance companies. With an independent agent, you get choices. Why? Because an independent agent represents many insurance companies at once, and works on your behalf to find the best possible rate and coverage to fit your specific needs.
#3 Helping customers understand their coverages
Whether you're buying as a private individual or as a business owner, buying or shopping for insurance can be unwelcome and annoying – or simply taken lightly. To take it lightly is a mistake. Why? Because insurance is there to protect your most valuable assets – you and your home, cars, business and future. The worst time to find out you don't have the right policy and coverages is when you need them the most, AFTER you've suffered a loss.
# 4 Helping customers assess coverage needs
With an independent agent, in addition to having choices, you have the advantage of a licensed professional who will:
Evaluate and assess your individual risks and requirements
Identify and tailor policies that are right for you
Offer products to meet all of your insurance needs
Assist you when you have a claim
Treat you like a human being, and provide excellent, hands-on service
An independent agent will help you understand what your policy actually covers, how much of a deductible to carry and how much coverage you need. When it comes to protecting your family, your assets and your future, you want to do it right, the first time!
#5 Being neighborly
Your local, independent agent understands the importance of being involved in the community. Independent agents support local youth sports teams and community organizations. And they'll be there to help you feel secure in your insurance protection decisions and to help make life better when bad things happen.