Home Safety Checklist
Follow this checklist to help prevent damage to your home.
Your home is one of your larger financial investments. To prevent damage to your home and to save yourself money, time and frustration, follow these simple maintenance tips.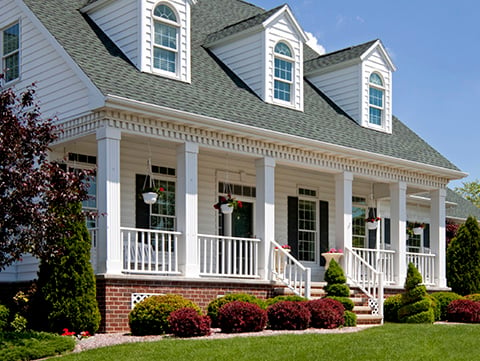 Monthly Inspections and Cleaning
Test smoke alarms and carbon monoxide alarms by pressing the test buttons.

Inspect hot-water heater. Check for rust stains or water on or around the heater. Drain one or two gallons of water from the drain valve at the bottom of the water heater. Rust or debris will settle at the bottom of the tank and collect on the lower heating element (of electric units). This can shorten the life of the tank or the element. Draining the tank removes the sediment.

Clean kitchen exhaust fan filters. Remove the filters from exhaust fans and clean in the sink or dishwasher. Filters can accumulate grease, which decreases their efficiency. Grease in the hood and filter can also accelerate a kitchen fire.
Seasonal Maintenance and Cleaning
Clean out rain spouts. Remove debris from spouts, and clean screens around downspouts. Blockages in the spouts can cause rainwater to overflow, which can lead to wood rot and basement water infiltration. Check joints in the rain spouts for cracks and caulk them, where necessary.

Clean around exterior air conditioner compressor, according to the manufacturer's instructions. Remove all accumulated leaves and debris. Hand wash or vacuum the vents to clear away any debris. A clean air-conditioner compressor operates more efficiently.

Trim shrubs around the house. Prune shrubs and trees away from the house and windows. Plants that touch the house's exterior surface can promote infestation from insects, lead to wood rot and cause surface wear. Plants that hide windows create a shield that can allow a thief to break in, unseen by neighbors.

Vacuum refrigerator coils, according to the manufacturer's instructions. Dust accumulation can decrease the refrigerator's efficiency.
Annual Maintenance and Cleaning
Inspect plumbing shut-off valves. Check valves for leaks and corrosion. Turning the valves on and off will prevent future sticking.

Inspect fireplace chimney for creosote, which will appear as a shiny black coating on the interior walls. Hire a professional to remove any accumulation.

Vacuum smoke alarms and carbon monoxide alarms to improve airflow to the sensor
Theft Prevention
Install deadbolt locks on all exterior doors

Secure sliding glass doors with a locking bar

Keep bicycles, furniture, grills and other easily stolen objects inside the house when not in use

Use timers on lights when you go out at night

Ask a neighbor to keep an eye on your house while you are away

Buy a home safe or rent a safe deposit box to store valuables

When traveling, keep valuables in your hotel's safe

Keep an inventory of your home's contents. Keep a written inventory and a photographic or video inventory.

Eliminate Liability Hazards

Eliminate tripping hazards (cracked sidewalks, debris on sidewalks, loose carpets in house, etc.)

Keep a properly secured fence around pools (follow local codes)

Keep pets secured and on your property, in a fenced area and away from children

Do not own a trampoline or keep one on your property

Do not store vehicles on jack stands or blocks
We'll Be There For You
Even careful homeowners can experience a loss. If you experience a loss on your property, here's what to do:
Protect the property

Make an inventory of damaged items

Contact your independent agent or Penn National Insurance

Contact the police if the loss involves a crime or injury for which you might be held accountable