Workplace Injuries
Prompt workplace injury reporting can help save on the costs associated with workers' compensation injuries.
We offer our workers' compensation policyholders an innovative managed care program that provides quality medical care and attention to injured workers. We designed our program to help employers contain the costs of workers' compensation claims. Our goal is to streamline the process of reporting injuries.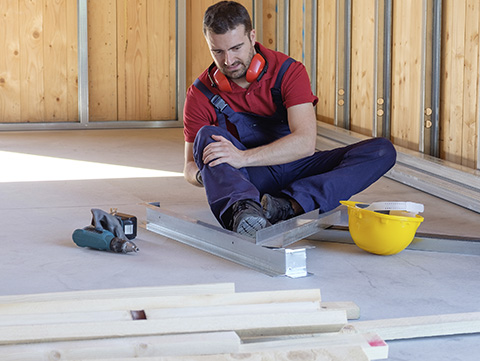 Prompt reporting of all injuries involving outside medical treatment is critical to the claims management process. Any delay in reporting the claim directly affects the adjuster's ability to properly investigate the loss and make the proper decision regarding the payment of statutory wage or medical benefits. Studies have found that claims reported two weeks after the injury cost 18 percent more than those reported earlier. Four weeks later and the costs almost double.
You can report a workplace injury by calling 800-374-4990 or reporting online.
What you need to do if an employee is injured
Determine if medical assistance is needed. For serious injuries, call 911.
Report the injury immediately by calling 800-374-4990. Please call us even if you do not have all of the claim information.
Review the information in the workers' compensation packet that explains your options for referrals to doctors and medical facilities. Review your state requirements regarding employer involvement in medical care and required documentation. You should have selected your medical providers when you received your packet. If not, you will be provided with provider information at the time you report the injury.
The supervisor should accompany the injured employee to the doctor or medical facility and then accompany the employee back to work or home.
Stay in contact with your employee. If the employee is unable to work, you should call them frequently to ask how they feel and when they will see the doctor again. Remind them that many people care about their progress and want to see them recover and return to their job as soon as possible.
Offer light-duty tasks to help the employee return to work sooner. If the doctor releases your employee with restrictions, find light (modified or transitional) duty tasks for an early return to work.
What we do when an injury is reported
We complete the first report of injury and file the required forms with the state.
We fax a copy of the first report of injury to you and your agent.
If a claim involves lost work time, the claims adjuster will interview you, the doctor assigned to the case and the injured worker.
When the injury is severe, we have a registered nurse talk with you and your injured worker on the day the injury is reported to us. The registered nurse will assess the medical situation and work with the treating medical provider on a treatment plan.